CHECK OUT OUR EXCITING INDOOR ATTRACTIONS
Batting Cages (Doral)
Ever have plans cancelled by the weather? Well the heat, rain or wind will not stop you from playing your favorite sport. An actual baseball or softball is thrown by a computer controlled pitching machine, which can deliver any pitch that a human pitcher can. Batters can be challenged by a variety of speeds.

We want everyone to stay in shape while still having a good time, and we believe a batting cage is a perfect example of that. Playing a sport is a great way to stay in shape.
Ski Slopes (Doral)
Living in Florida is probably one of the best things ever, the only thing missing is mountains to go skiing or snowboarding. Too bad we cannot bring that here, right? Oh wait, we did! Now, indoor skiing and snowboarding is available in Doral, Florida all year round.

At Planet Air Sports, we have a ski slope simulator that you can snowboard and ski all day long. Whether you are a beginner or a seasoned pro, our unique indoor ski slope provides you with the same disciplines as on-hill riding within a controlled and safe environment.
360 degrees (Doral + Deerfield)
If going upside down is thrilling for you, wait until you try our 360 degree rides. The first one is called the X-Board. They can spin 360 degrees on a snowboard after swinging back and forth. Safety is always present thanks to the special structural support design. Next, we have the X-Bike which is much taller than the X-Board. On this ride, you must pedal 360 degrees on a bike that is inside a huge circular structure. Then comes the most challenging one of all, by far the wildest ride we have ever had: The Spin Board. Not only does this ride goes upside down, but it goes every which way imaginable. It is one experience you will not want to miss.
Ninja Course (Doral)
Ever watch the American Ninja Warrior show and say: I can do that! Well now you can, at our Doral facility we have a whole ninja course just for you. Put your skills to the test on our new Ninja Course. Ninjas of all sizes are welcome to test their agility, strength, speed and coordination while maneuvering through different obstacles.

This means you can jump from challenging elements and be the warrior you always wanted to be. This course will sure test your strength, agility, patience and your drive. Think you can complete it?
Ropes Course (Doral + Deerfield)
Our new state of the art ropes course, reaches new heights. After our employees strap you in and make sure you are completely safe, you will experience all types of obstacles. On this unique rope course, we will have different elements.

We have two exciting and challenging ropes courses. You will be balancing through ropes, going through barrels, walking on planks, cubes, moving bridges, riding a skateboard attached to a wire and you will also be suspended on tires!
Parkour Course (Doral)
Our parkour course was made for those that love to jump from wall to wall and monkey vault all around. This Parkour course is over 40 feet long with different elements throughout. Parkour was made as a military training to get them from one place to another the fastest way possible.

This course was made to enjoy, for most people to come and time themselves to see how good they are, and try to get better. We have the elements for you to swing, vault, jump, and everything else you would like to do. This course is for everyone to try.
Bowling (Doral)
Ever have those nights, where you are at home bored, and then you get this brilliant idea to go bowling, but you do not just want to bowl, you want to do other things as well? Well at Planet Air Sports Doral we have it all including the bowling alley you have all been waiting for.

There are 8 lanes included and all the weights for the bowling balls you will need. We have a café to eat and get drinks from, while you play and if you finish your games of bowling and still want to do something else, you can come on down to our trampolines and jump around. ​
Paintball (Deerfield)
You want competition? We have a Paintless Paintball arena for kids 10 years old up to adults. It is a combination of paintball and laser tag.It is the adrenaline rush of paintball with the technology of laser tag.

All the fun and none of the bullet paint! The Bazooka Ball is great for younger kids, 6 to 10 years old. The high quality Bazooka Cannon fires soft foam 2" balls. Getting hit doesn't even hurt in Bazooka Ball because you are shooting soft foam balls.
Toddler's Playground (Doral + Deerfield)
For the little ones we offer our Toddler playground. They can spend hours playing on our mini trampoline, kid's climbing walls, slides, games, books, puzzles and much more! They can also relax while watching a movie. Cost is $10 per child.
Triple Bungee Trampoline (Deerfield + Doral)
Jump, Jump, Jump in a Triple Bungee Trampoline. You can jump off of 3 trampolines in a V-shape at the same time.

As the bungee cords stretch, you will soon be demonstrating your acrobatic talents by doing somersaults, flips, twists and spins, then landing safely on your feet!
Pool Soccer (Deerfield)
Pool Soccer is the latest invention in sports! Its a new combination of pool and soccer. You play soccer on an oversized pool table, but the focus is on fun and entertainment.

This means that you don't have to be that good in soccer. It's more about tactics and aiming skills. It's the perfect combination between ball handling, cleverness and fun.
Aeroball / Jumpshot (Deerfield + Doral)
Push to astronomical heights, defy vertical gravity, and master the competitive game of Aeroball!

Aeroball is a physically, mentally challenging, and competitive game, that combines Basketball and the trampoline into the ultimate vertical sports experience.

Jumpshot is a similar indoor attraction with actual basketball hoops.
Leap of Faith (Deerfield)
The Leap of Faith is an immensely popular element which is a real personal challenge for many. The goal is to climb up the central pole and onto the jump platform from where the participant leaps out to catch hold of one of two items.

Participants have the choice to either go to the right and jump and hug the punching bag or go to the left and jump and grab the handle, to gain the admiration of spectators and a huge sense of achievement. The position of the Trapeze can quickly and easily be set closer or further away to suit the physicality and confidence of each participant.
Vertical Drop Slide (Deerfield)
The Vertical Drop Slide is an 'out of the ordinary' experience. Each participant is kitted out in a skydive suit (to control the amount of friction) and a helmet. Then they hold on to a handlebar and are pulled up the face of the slide using a winch controlled by a supervisor.

This is a 'challenge of choice' and the participant can let go at any time he or she chooses. Participants going to the top of a 25 foot slide will have about 10 feet of freefall before engaging seamlessly with the slide and through the radius, and down to the end of the slide.
Bubble Soccer (Deerfield)
The most fun way to play soccer is here… Bubble Soccer. During this hilarious new the game you will be bumping, rolling, bouncing, but most of all laughing like crazy! You will feel like a kid again. You and your friends will be laughing for days after. To make it more challenging you can play it glow in the dark too.

This fun sport is ideal for birthday parties, bar mitzvahs, corporate events, team building and much more. Bubble Soccer is great cardio exercise too for the entire family!
Monkey Bars / Trapeze (Doral)
Ever watched Gymnasts at work and wanted to sear through the air like they do? Well, we are giving you the opportunity to do just that. Planet Air Sports Doral would like to introduce you to our monkey bars and trapeze attractions. Take hold of your fears as you stand over 20 feet above the ground, swinging from bar to bar. Below you, there is a state of the art air bag to break your fall.

Our monkey bars are for those a little more scared of heights as it is closer to the air bag than the trapeze, but no shortage of the thrill. There is ever a wall towards the end of the bars that pleads you to try and jump over it. Make no mistake, this is no easy challenge as it will require a lot of strength and grit to make it that far.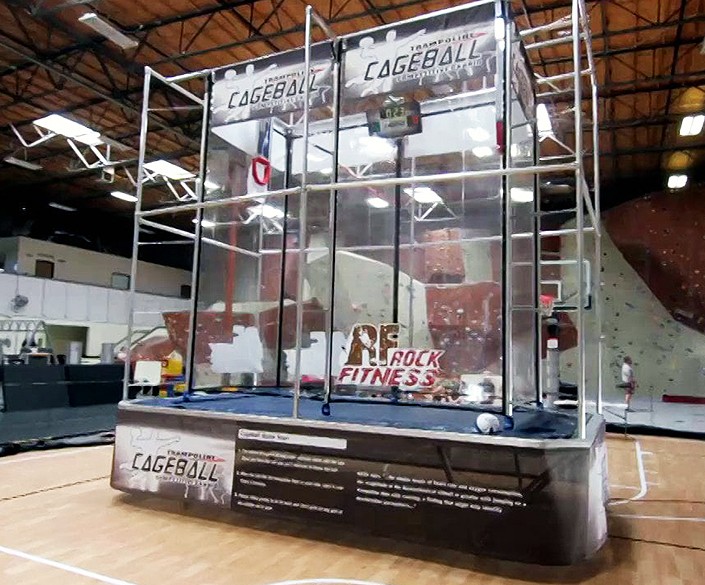 Cage Ball (Doral)
A game of endurance, vision, strength and agility, Trampoline Cageball, will tire out world class athletes in a matter of minutes and provide cross-training for any aerial or cardio related sport. The essence of the game is reading the other players movements and adjusting your shot and jump accordingly, while trying to get the double bounce factor – achieved by jumping a split second after the other player, this gives you extra lift while stealing it from your opponent.

In short, it will physically exhaust you while leaving you wanting more of this intense hybrid sport.
Zip Lines (Deerfield + Doral)
Our new state of the art ropes courses in Doral reaches new heights. After our employees strap you in, and make sure you are completely safe, you will experience fun and challenging obstacles. Our upper ropes course is over 100 feet long, 20 feet high, and include 38 different elements. They will require you to work a little, but have the enjoyment value.

The lower ropes course will include 15 elements. It is about 10 feet high and the same length as the upper ropes course. So, while dad might be on the taller ropes course, he can always look down and see his child, or they can look up and see you. You can even do the lower ropes course together. Do you think you are ready to take on this new adventure? Show us if you can conquer this new ropes course.