OVER 8,000 SQ FT OF TRAMPOLINE PARK FUN AWAITS YOU!
TRAMPOLINE PARK
Come visit Planet Air Sports and enjoy your time having "Out-of-this-World" fun jumping to your hearts' content on our 8,000 sq ft. Indoor Trampoline Park. It's a Non-Stop Fun attraction for all ages and it's also a fantastic workout you won't want to miss.  While on the trampoline park, choose between our different available attractions or try them all out.

You can take your best shot at our (3) three different height Basketball Hoops,  you can come join us for a challenging and adrenaline filled game of Dodgeball on our 2000 sqft. state of the art Dodgeball trampoline, or you can simply jump for fun and flip to showcase and practice your skills amongst your family and friends. Our Trampoline Park is not only one of the most popular attractions at Planet Air Sports but also a favorite when it comes to celebrating special events such as: Birthdays, Corporate Events, Bar/Bat Mitzvahs and more! Contact Us today and plan your next visit!

(Our trampolines are maintained and sanitized on a continuous basis)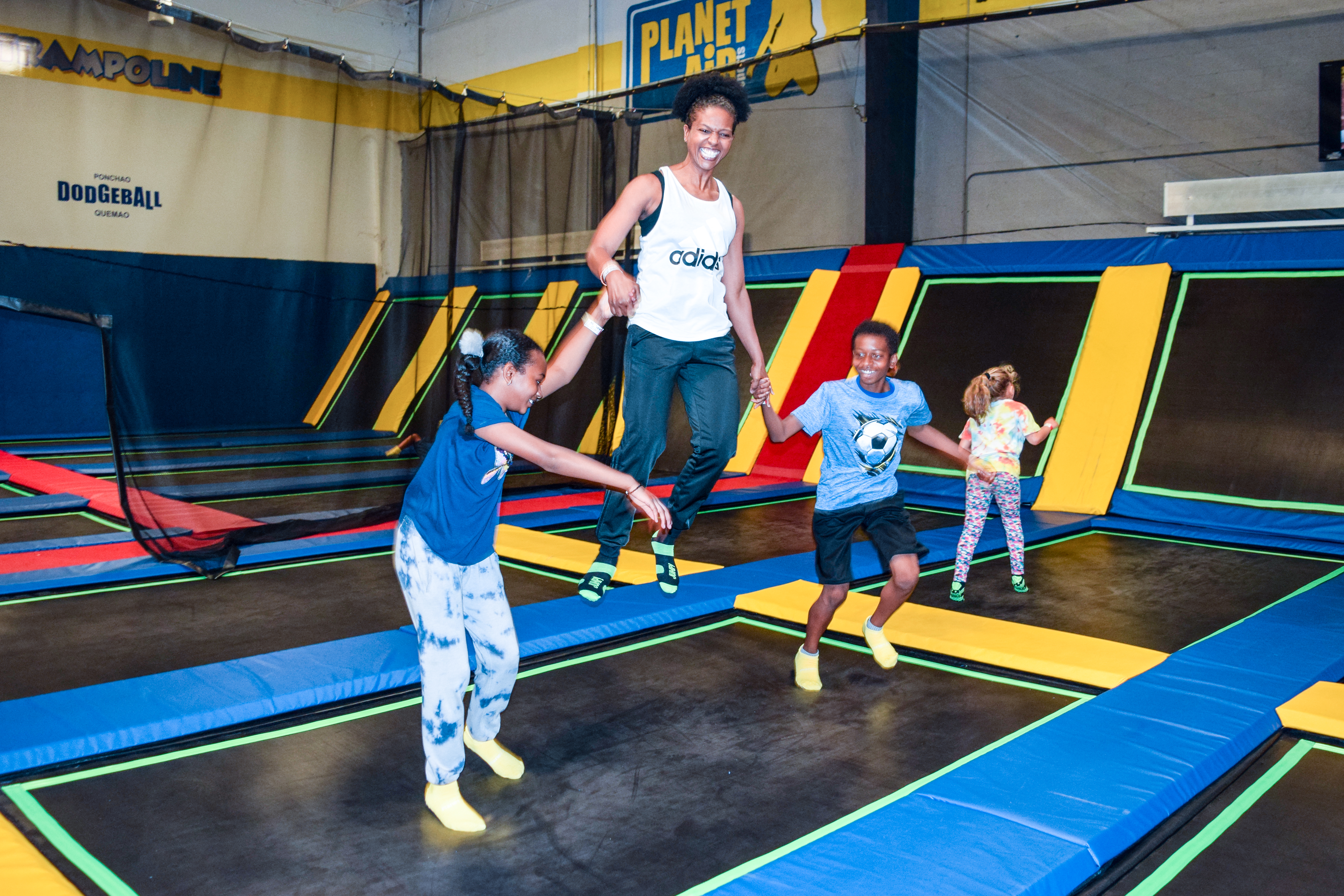 TRAMPOLINE PARK SAFETY RULES
Participant Maximum weight is 250lbs.

Sharp Objects, Keys, Loose items, Jewelry, Watches, Hats, Etc. Must be REMOVED from person.

Avoid jumping in the same area of anyone significantly younger or less skilled than yourself.

Food, Drinks, Gum or Candy of any kind is NOT ALLOWED.

Ensure that you always land all jumps with both feet.

Top section of the trampoline and blue pads are to be avoided while jumping.

Yield to fellow jumpers at all times and no intentional colliding, rough-housing, or tripping.

Foul language or profanity is not allowed.

Immediate dismissal if you double jump, double flip or play "Popcorn".

Running is never allowed and stricly PROHIBITED.

Safety says kids less than 45 Inches tall are not allowed on trampoline park.

Tired? Take a break on the flight deck. No sitting/lying down on trampoline.