CHECK OUT OUR EXCITING INDOOR ATTRACTIONS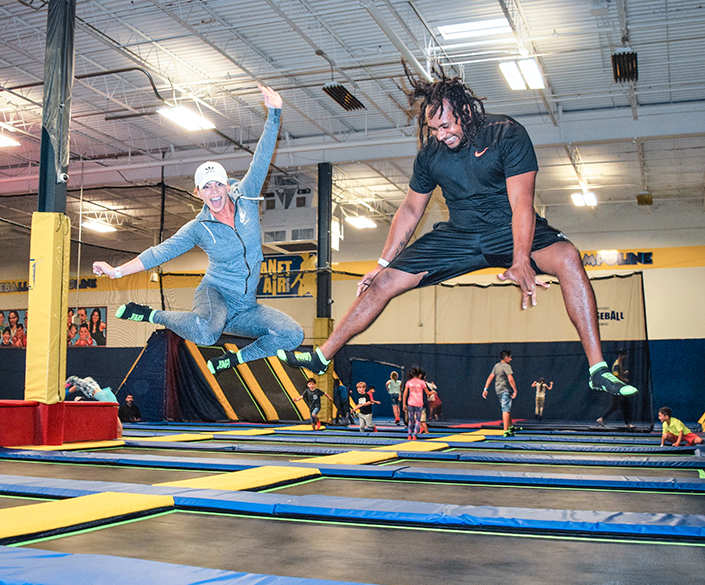 Trampoline Park
Come visit Planet Air Sports and enjoy your time having "Out-of-this-World" fun jumping to your hearts' content on our 8,000 sq ft.
Indoor Trampoline Park
. It's a Non-Stop Fun attraction for all ages and it's also a fantastic workout you won't want to miss. While on the trampoline park, choose between our different available attractions or try them all out.
You can take your best shot at our (3) three different height
Basketball Hoops
, you can come join us for a challenging and adrenaline filled game of
Dodgeball
on our 2000 sqft. state of the art Dodgeball trampoline, or you can simply jump for fun and flip to showcase and practice your skills amongst your family and friends.
Ski Slopes
Living in Florida is probably one of the best things ever, the only thing missing is mountains to go
skiing or snowboarding
. Too bad we cannot bring that here, right? Oh wait, we did! Now, indoor skiing and snowboarding is available in Doral, Florida all year round.
At Planet Air Sports, we have a
ski slope simulator
that you can snowboard and ski all day long. Whether you are a beginner or a seasoned pro, our unique indoor ski slope provides you with the same disciplines as on-hill riding within a controlled and safe environment.
360 degrees
If going upside down is thrilling for you, wait until you try our 360 degree rides. The first one is called the
X-Board
. They can spin 360 degrees on a snowboard after swinging back and forth. Safety is always present thanks to the special structural support design. Next, we have the
X-Bike
which is much taller than the X-Board. On this ride, you must pedal 360 degrees on a bike that is inside a huge circular structure. Then comes the most challenging one of all, by far the wildest ride we have ever had:
The Spin Board
. Not only does this ride goes upside down, but it goes every which way imaginable. It is one experience you will not want to miss.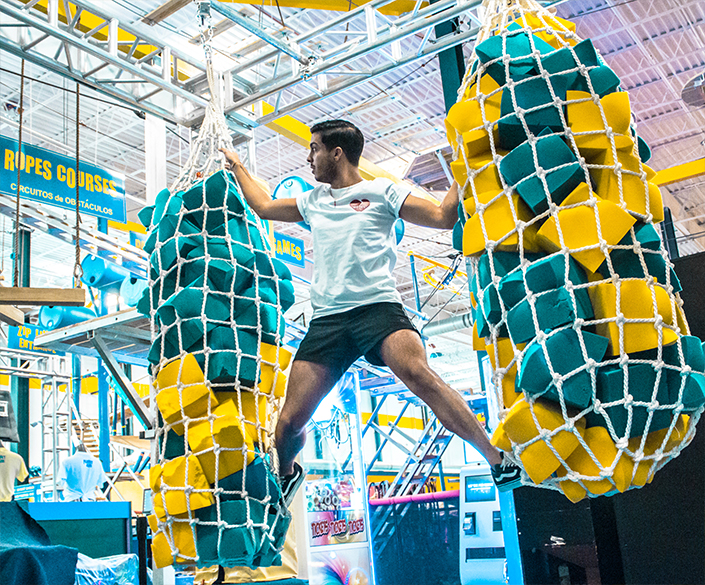 Ninja Course
Ever watch the American Ninja Warrior show and say: I can do that! Well now you can, at our Doral facility we have a whole ninja course just for you. Put your skills to the test on our new
Ninja Course
. Ninjas of all sizes are welcome to test their agility, strength, speed and coordination while maneuvering through different obstacles.
This means you can jump from challenging elements and be the
warrior
you always wanted to be. This course will sure test your strength, agility, patience and your drive. Think you can complete it?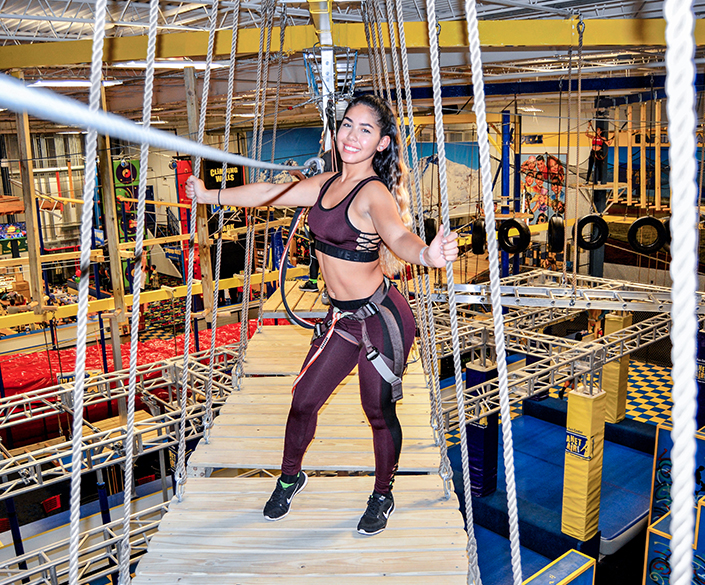 Ropes Course
Our new state of the art ropes course, reaches new heights. After our employees strap you in and make sure you are completely safe, you will
experience all types of obstacles
. On this unique rope course, we will have different elements.
We have two exciting and
challenging ropes courses
. You will be balancing through ropes, going through barrels, walking on planks, cubes, moving bridges, riding a skateboard attached to a wire and you will also be suspended on tires!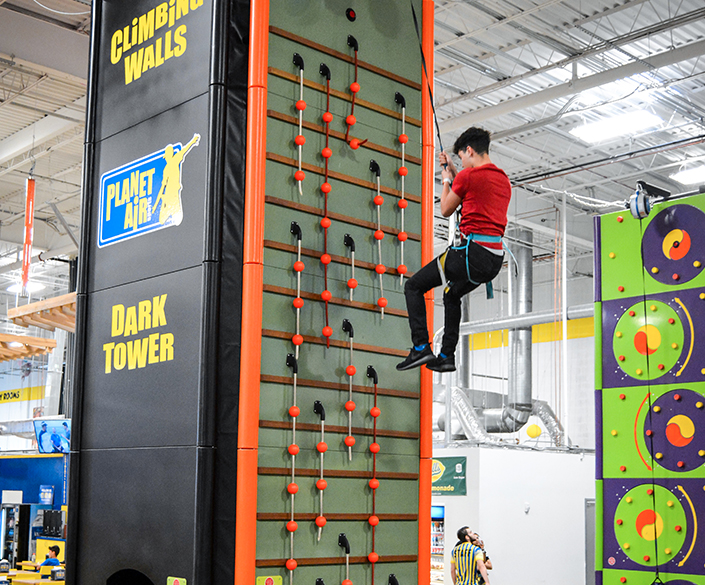 Climbing Walls
ome to Planet Air Sports ready to reach for the top. We have eight rock climbing walls in different levels.One of our rock climbing walls is called the Twister and it has two levels of difficulty. It's fun; it's tall and it's very colorful! Our new edition is the Ninja Wall where you will feel just like Spiderman going up a 24 foot tower.
For a different type of adrenaline and competition you can climb out transparent wall.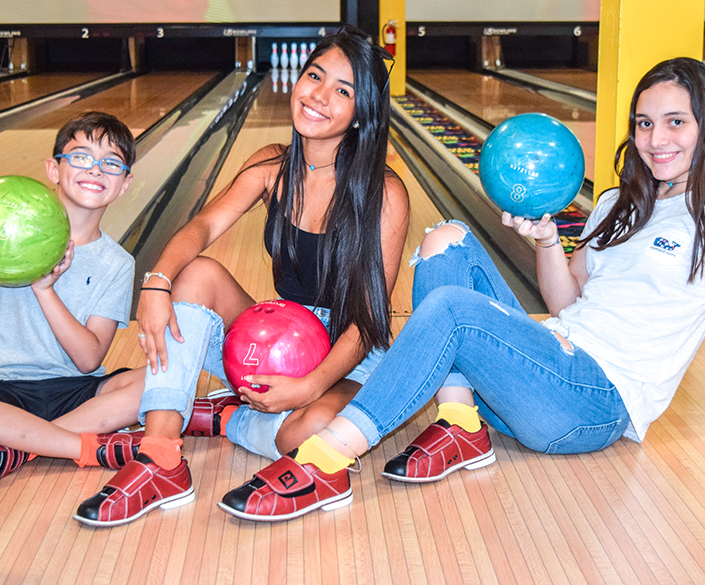 Bowling
Ever have those nights, where you are at home bored, and then you get this brilliant idea to go bowling, but you do not just want to bowl, you want to do other things as well? Well at Planet Air Sports Doral we have it all including the
bowling alley
you have all been waiting for.
There are
8 lanes
included and all the weights for the bowling balls you will need. We have a café to eat and get drinks from, while you play and if you finish your games of bowling and still want to do something else, you can come on down to our trampolines and jump around. ​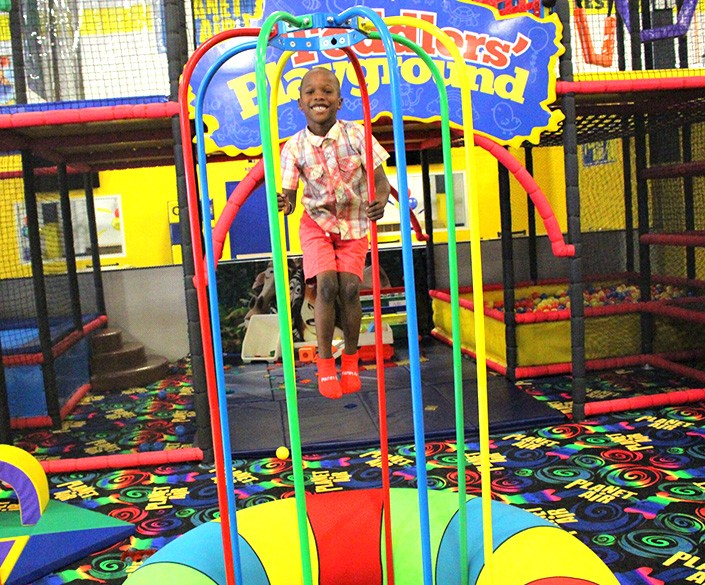 Toddler's Playground
For the little ones, we offer our
Toddler playground
. They can spend hours playing on our mini trampoline, kid's climbing walls, slides, games, books, puzzles and much more! Cost is $15 per child.
We have a wonderful two level soft play playground. Not only is this playground tons of fun, but it's good for them as well! The exercise coming from the attractions will have your kids feeling great! There will be an employee present at the playground watching over the kids,
making sure they are safe
. We have also added a seating area placed around the playground so you can watch your child while eating.
Cage Ball
A game of endurance, vision, strength and agility, Trampoline Cageball, will tire out world class athletes in a matter of minutes and provide cross-training for any aerial or cardio related sport. The essence of the game is reading the other players movements and adjusting your shot and jump accordingly, while trying to get the double bounce factor – achieved by jumping a split second after the other player, this gives you extra lift while stealing it from your opponent.
In short, it will physically exhaust you while leaving you wanting more of this intense hybrid sport.
Triple Bungee Trampoline
Jump, Jump, Jump in a
Triple Bungee Trampoline
. You can jump off of 3 trampolines in a V-shape at the same time.
As the bungee cords stretch, you will soon be demonstrating your acrobatic talents by doing somersaults, flips, twists and spins, then
landing safely
on your feet!
Aeroball / Jumpshot
Push to astronomical heights, defy vertical gravity, and master the competitive game of
Aeroball
!
Aeroball
is a physically, mentally challenging, and competitive game, that combines Basketball and the trampoline into the ultimate vertical sports experience.
Jumpshot
is a similar indoor attraction with actual basketball hoops.
Zip Lines
Our
zip lines
tower over 20 feet high and 100 feet long. Everyone loves ziplining, and now you never have to stop!
As you zip line across the length of the park, you will see wonders along the way. The great thing is that it doesn't stop there, you get to zip line there, and then back again. This being because our zip lines are recurrent. The fun just doesn't end! No more waiting in line to zip line. You chose when enough is enough for you. You can even
race your friend
as you both zip line across from each other. These zip lines are all fun and we cannot wait for you all to try them.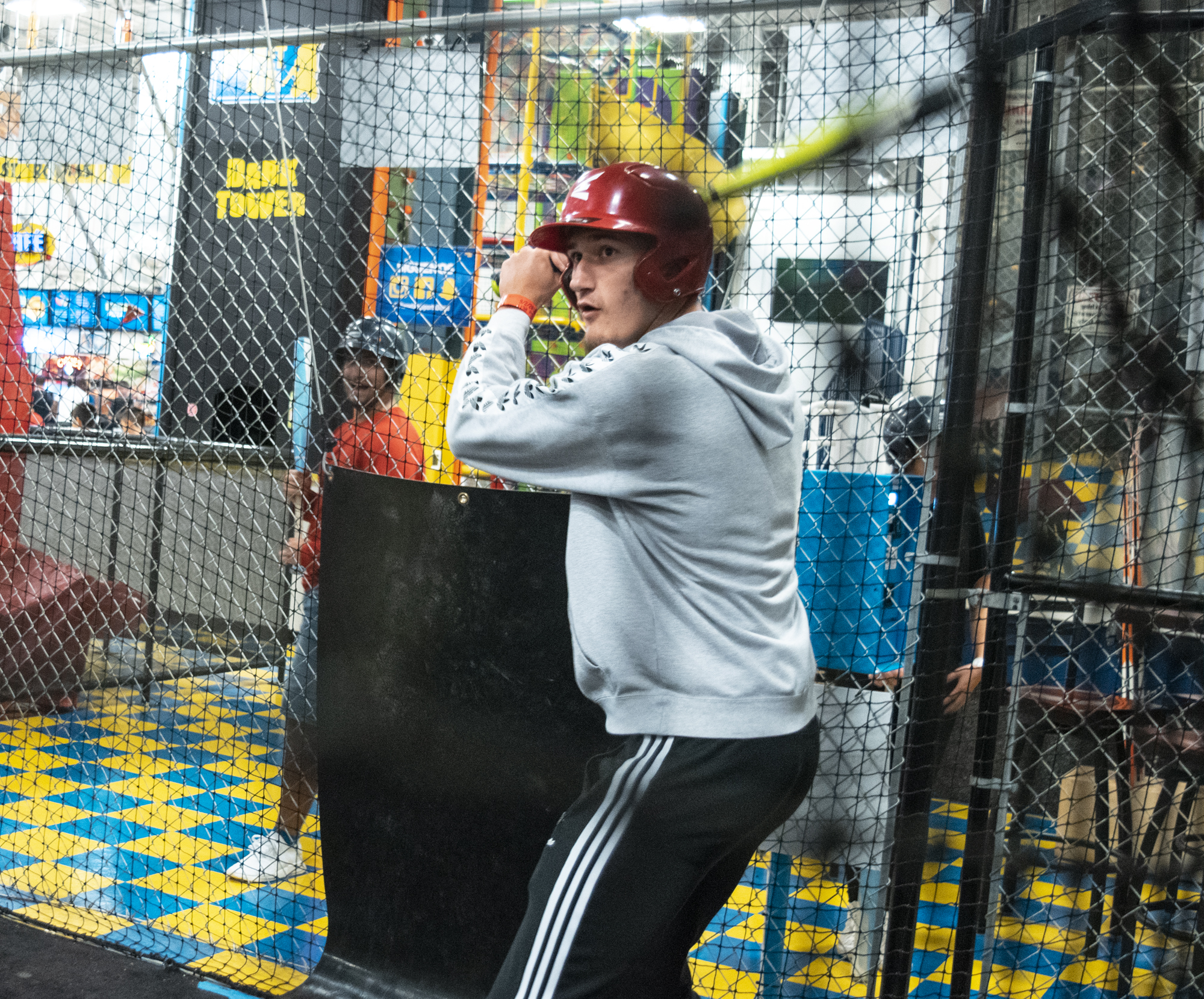 Batting Cages
Ever have plans cancelled by the weather? Well the heat, rain or wind will not stop you from playing your favorite sport. An actual
baseball or softball
is thrown by a computer controlled pitching machine, which can deliver any pitch that a human pitcher can. Batters can be challenged by a variety of speeds.
We want everyone to stay in shape while still having a good time, and we believe a
batting cage
is a perfect example of that. Playing a sport is a great way to stay in shape.
Trapeze / Monkey Bars
Ever watched Gymnasts at work and wanted to sear through the air like they do? Well, we are giving you the opportunity to do just that. Planet Air Sports Doral would like to introduce you to our monkey bars and trapeze attractions. Take hold of your fears as you stand over 20 feet above the ground, swinging from bar to bar. Below you, there is a state of the art air bag to break your fall.
Our monkey bars are for those a little more scared of heights as it is closer to the air bag than the trapeze, but no shortage of the thrill. There is ever a wall towards the end of the bars that pleads you to try and jump over it. Make no mistake, this is no easy challenge as it will require a lot of strength and grit to make it that far.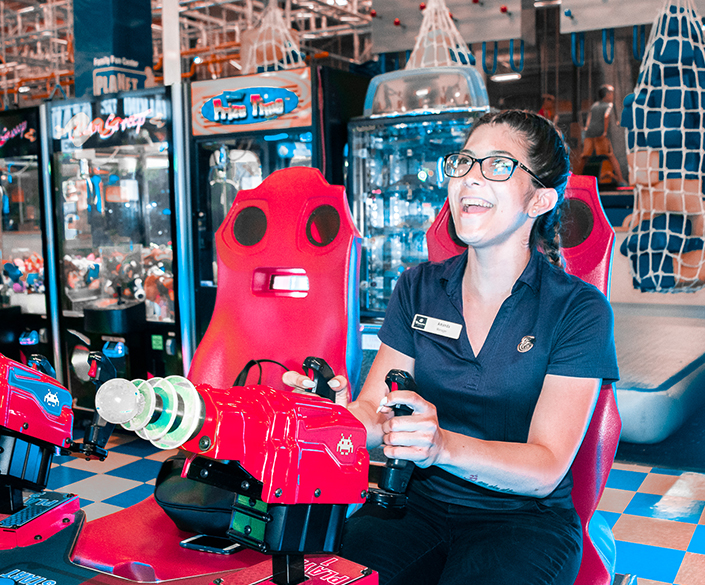 Arcade
Nonstop Arcade Fun! Shoot, surf, score, flip, drive, blast... we have all you need to achieve your adventurous side! We have everything from retro classics, arcade fan favorites, shooting games, ride simulators and a variety of redemption machines
Win e-tickets and choose your favorite prizes at our incredible redemption center. Bring your family, meet your friends, and have fun in our interactive arcade to experience some of the coolest and most advanced games around.